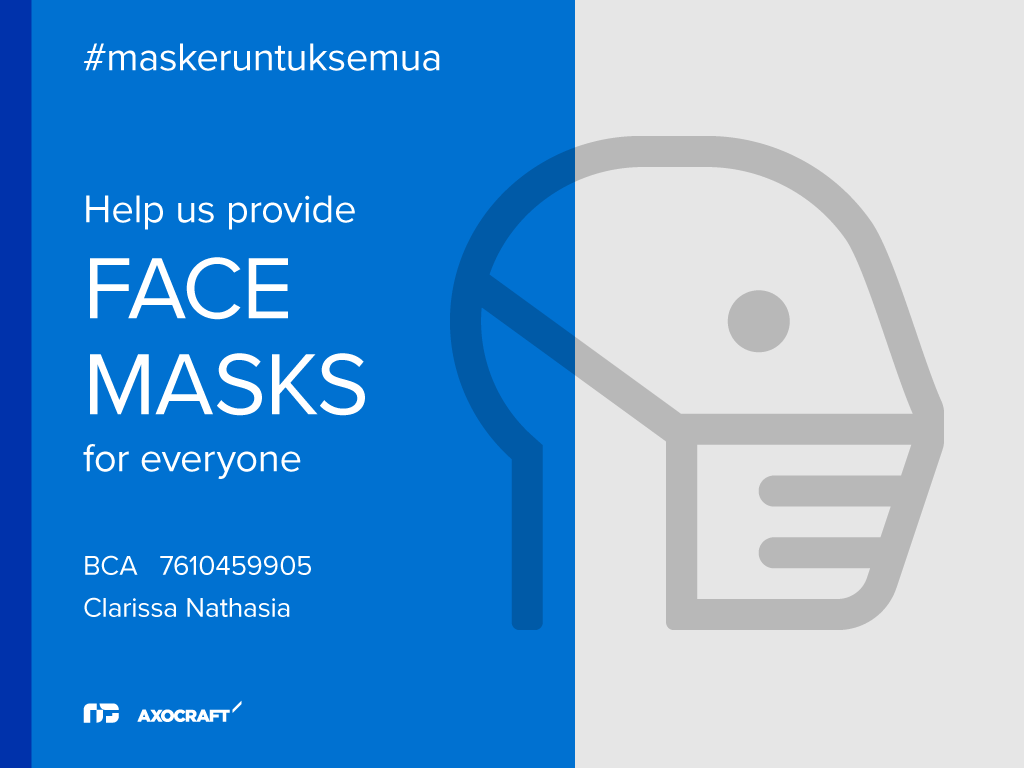 UPDATE:
2020/05/09 – To date we have shipped 1,210 masks.

2020/04/15 – We have start ordering the first batch of 1,000 masks. The financial and progress report for this project is publicly accessible here.
We are now opening donations for us to provide non-medical face masks for everyone as an extension to our Face Shield donation program.
As we are prioritizing on shipping face shields to hospitals in the rural areas, and most of them are outside of Jakarta, there is a good chance that the community around those hospitals need face masks as well. Currently we are doing what we can to suppress expensive shipping costs by pooling shipments into small local distribution posts (maintained by medical professionals within that shipment destination), but they are still not cheap. Logistics to places outside Java have always been an issue. The further out, the more expensive it gets. We'd like to maximize those shipments to include things that people need as well.
Every IDR 6.000 will cover the production and handling cost of one face mask. We are working with our suppliers to get the production going. We are attaching this to the Face Shield donation program to take advantage of the shipping management that we have already been doing.
Just like the face shields, this will also be a transparent operation, and all reports will also be available publicly. Your donations will be responsibly managed only for this purpose. We will also do our best to vet every shipment to make sure that these masks go to the people who actually need them. We want to make sure that no one is hoarding these masks at the expense of anyone.
For more information, please contact Clarrissa at +62 812 8832148 or Griselda at +62 812 18881706 (WhatsApp only). We will be updating this space with any progress we make.
Every donation counts, and we thank each and everyone of you. Stay safe, stay healthy.