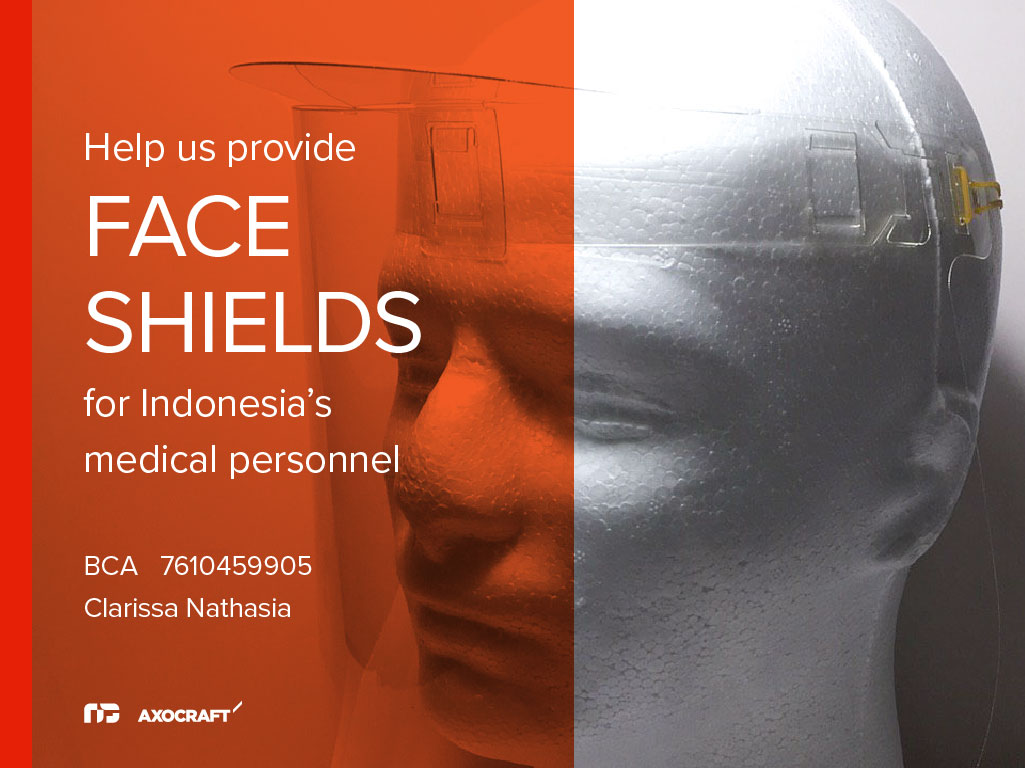 UPDATE:
2020/05/09 – To date we have shipped 1,434 shields to 81 different hospitals.
2020/05/03 – To date we have shipped 1,098 shields to 60 different hospitals.

2020/04/11 – To date we have shipped 486 masks to 27 different hospitals. We are still targeting to produce at least 1,800 in total. We are also constantly working to streamline and optimize the manufacturing process of each shield. This means that hopefully we can get cheaper production costs, and ship even more shields out with your same donations in the coming weeks.
2020/04/08 – We have reached our initial goal, and we're currently closing the donation window to focus on getting the shields produced. We thank you for your kind donations. The financial and progress report for this project is publicly accessible here.
We are now opening donations so that we can provide even more medical face shields to those in need.
Currently we are still ramping up our production of at least 300 face shields that we funded ourselves. We are able to produce about 120 shields per day, with each shield taking up just about 2 minutes of laser-cutting. However, we are also still applying the highest safety margin for everyone working in the office, and we can only set a certain timeframe while some of us are working from home. We are constantly working to improve our production process so that we can get these visors out as fast as we can.
Every IDR 25.000 will cover the production, handling, and a part of the shipping cost of one face shield. We have received many requests from hospitals (especially outside Jakarta) who are in dire need of these visors, and we will do the best we can to fulfil them. We are going to be cross-subsidizing the shipping charges to make sure we can reach the furthest places in Indonesia, and absorb the shipping deficit if we need to.
We are also conducting a transparent operation, and all reports will be publicly accessible here. Your donations will be responsibly managed only for this purpose. We will also do our best to vet every donation request to make sure that these shields go to the people who actually need them. We want to make sure that no one is hoarding these masks at the expense of anyone.
For more information, please contact Clarrissa at +62 812 8832148 or Griselda at +62 812 18881706 (WhatsApp only). We will be updating this space with any progress we make.
Every donation counts, and we thank each and everyone of you. Stay safe, stay healthy.