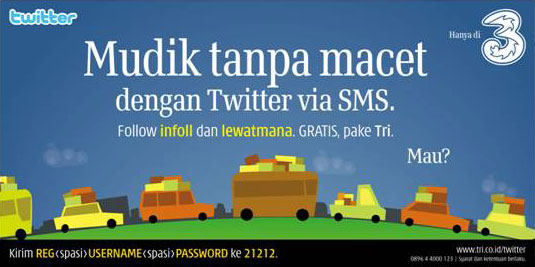 Today, 3 in cooperation with infolalulintas.com is launching the first Twitter-via-SMS program. With this program, hopefully we can give useful traffic information to those who are currently going back to their home towns for the Eid Ul-Fitr celebration.
Additionally, 3 is providing 2 free top-up vouchers each day until October 5, for the most creative tweets that are sent to infolalulintas.com. So what are you waiting for? Start tweeting via SMS from your 3 cellphone numbers!
Mau dapat pulsa 100ribu langsung setiap hari? Langsung nge-tweet dengan Twitpaketri ke @infoll! Yang paling unik akan menang!